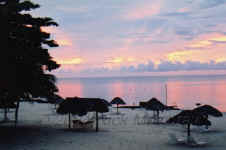 Pastel Sunset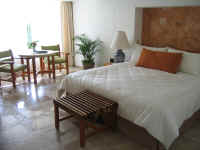 Our Room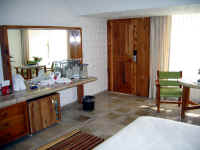 Lots of Space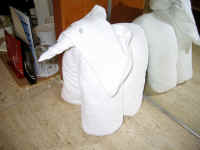 Resident Elephant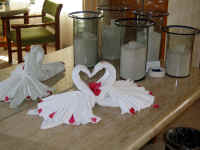 Origami Swans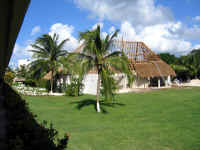 Serenity Spa Construction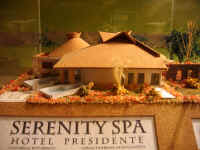 Model of the Spa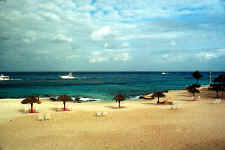 Southside Beach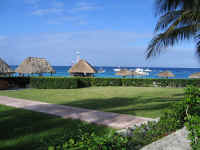 View from our patio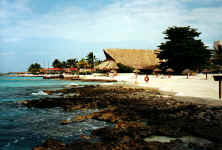 Main Palapa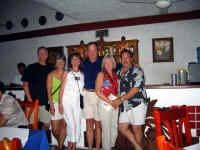 Our Friends Nancy, Larry, Julie & Andy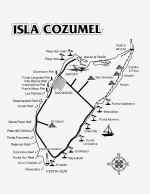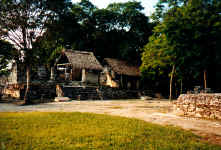 Ruins at San Gervacio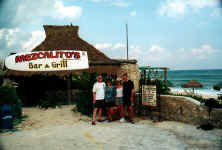 Mescalito's Bar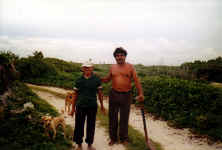 Our Rescuers!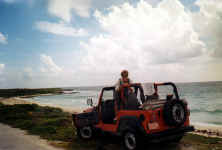 To far offroad for this Jeep!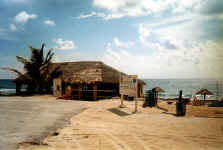 Punta Sur Bar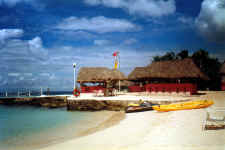 Scuba Du's Beach Location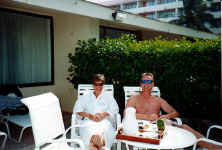 Morning Coffee in Style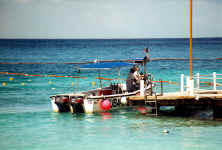 One of Scuba Du's Six Packs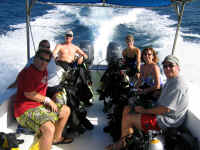 On Board Scuba Du III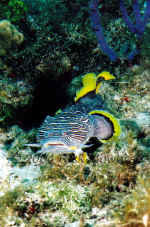 Cozumel's Splendid Toadfish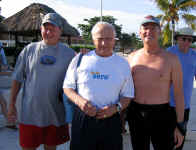 Meeting Buzz Aldrin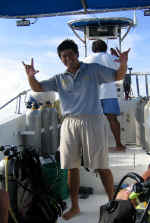 Divemaster Jose Luis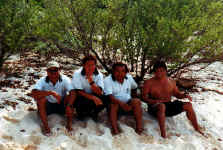 Boat Captains & Divemasters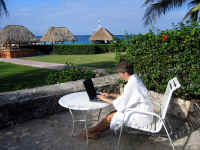 Kelli Hard at Work - sort of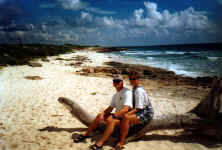 Deserted Eastside Beach
Heading to Cozumel is never a tough decision for us. It was the first trip we ever made together back in October of 1998 and it is never disappointing. The diving, the hotel, the food, the weather, and the people are all always wonderful. Fall is a usual vacation time for us and we thought in light of the recent USAirways financial situation, using some Dividend Miles would be a good thing. We left Roanoke on Saturday for 10 days in Mexico. Our original plans (based on Dividend Miles ticket availability) were to fly to Cancun and take the short flight to Cozumel on our own. The airline recommended we check one last time on Friday before departing to see if free seats had opened up and we got lucky. They switched us to a direct flight to Cozumel (from Charlotte) and saved us several hours of lost time in the Cancun airport.
Our luck changed temporarily when we arrived in Mexico…no checked bags. So here we are with the camera equipment, regulators, masks, and dive computers, but no BCs, wetsuits, or fins. It also left us with no clothes, bathing suits, or personal items, but we're in Mexico, how bad can it be? We took a cab to the Presidente InterContinental Resort and Spa. With three previous visits here, we knew what to expect and couldn't wait for the pampering to begin. After checking in, the hotel stored our carry-on baggage while we went back into town for bathing suits and personal items we needed until our bags arrived. When we returned, we were guided to our ocean view room near the on site dive operator, Scuba Du. We changed into new swimsuits and headed to the pool immediately. After traveling all day, lying by the hotel pool and having a waiter bring a margarita sounded pretty good.
The Hotel
The Presidente InterContinental Resort and Spa, affectionately known island-wide as "The Presidente'" is the only Five Star, AAA Four Diamond hotel on the island. It has 253 rooms and employees about 300 people, more than one per room so service is not an issue. On this visit, we made arrangements in advance to sit down and speak with Martha Paredes the Sales and Public Relations Manager to learn more about one of our favorite hotels in the world. We have spent quite a bit of vacation time in resort/hotel accommodations and we find this hotel really special. The hotel and grounds occupy more than 1 mile of beachfront real estate. Upon arriving via airport taxi, guests are immediately greeted by a valet who gathers your bags and shows you to the front desk for check in. While you're still standing in the open-air lobby, you are given champagne as they answer any questions and get you checked in. It's always a quick, pleasant process and you're in your room in minutes.
It seems we have stayed in several of the room types the hotel offers in our four visits. The garden view rooms offer a view of the beautiful grounds that are always perfectly manicured. A wide range of tropical flowers and other plants are spread throughout the hotel grounds. All the fresh flowers and plants are grown in the hotel's on-site nursery and used throughout the rooms and common areas. The ocean view rooms are self-explanatory, but we will say they come in varying degrees of escalating luxury. All the rooms can be described as spacious. We seem to always have so much dive and camera gear that tiny rooms can be a problem…but that's never an issue here. Each room also has either a large private balcony or patio. We seem to get lots of use out of ours, whether it's having morning coffee, afternoon drinks, or setting out dive gear for drying.
To say the hotel is service oriented is a vast understatement. The staff here is so courteous and attentive, we just can't bring ourselves to ever stay anywhere else when visiting the island. Each morning when we receive our requested wake up call, it is followed shortly by the arrival of complimentary coffee. The wait staff uses large three wheeled bicycles (really!) with racks on the front to carry coffee and other room service request all around the sprawling resort. Upon returning to our already clean room from our dives, we'd find a tray of fresh fruit and a collection of origami animals adorning the furniture. Most days the staff revisits in late afternoon to bring ice for the room's bucket and they always ask if you need anything when they are there. They return one last time, usually while we're out for dinner, to turn down the bed, check your ice again, and leave chocolate. What more could you ask for?
The hotel has two restaurants. The first, Alfredo di Roma, is an indoor more formal type restaurant. By formal, we certainly don't mean you have to be formally dressed to go, just that you wouldn't fit in dressed in shorts and a T-shirt and the dining room is really classy. The floor is terraced to give each table an ocean view. InterContinental Resorts acquired the exclusive Alfredo di Roma franchise in July and has several of them within their hotels. The Presidente even brought in a chef from Italy. The entrees range from fresh seafood, beef, chicken, all manner of pastas, to vegetarian dishes all with an Italian flare. The beachside open-air restaurant, El Caribeño is far more casual. Guests are served both inside under an enormous Mayan palapa and outside at individual tables. Palapas are traditional open-air structures that have a palm-thatched roof. An elaborate buffet is set here each morning as well. The buffet table is literally the width of the building and starts with a variety of juices, and ends with a rack of freshly made pastries. In between you can find typical American fare such as eggs, bacon, cereal, and bread, along with Mexican cuisine and even an omelet chef. At both lunch and dinner, El Caribeño serves a little bit of everything. You can find burgers and chicken fingers as easily as fresh lobster and prawns. We can honestly say that we've never ordered anything at the hotel restaurants that we didn't enjoy. You'll also find the hotel bar here. It's all very centrally located. The two main beaches for swimming, the pool, and the dock are all in close proximity. Most evenings, you'll have live entertainment in both restaurants.
The hotel also offers massage therapy, manicure, and pedicure services in a beachside tent, but Martha shared with us plans for a new facility that we had already noticed being constructed. The beachside location has been so successful that the hotel was in the process of building their new spa. The new Serenity Spa is due to be completed by December 2004 and will feature a health club, massage and facial therapy rooms, a Jacuzzi and a Mayan Temazcal steam bath among other things.
The beachfront recreation areas on either side of El Caribeño are lined with lounge chairs, individual palapas, and an occasional shaded hammock. The southern side seems a little less traveled. We tend to dive, eat lunch, and then settle into chase lounges under a palapa and start logging our dives and ordering drinks. You see each palapa has a flag underneath which is to be placed in the sand when a waiter is needed. Did we tell you the service is wonderful? The northern side is adjacent to the pool area. All the pool chairs have a thick pad with a fresh flower garnish and a little round pillow for comfortable napping. Beside the pool area you can sit in the shade and make ceramic pieces if you're feeling artistic. The hotel has a children's program designed to let parents relax and have other responsible adults entertain them for part of their day. The northern beach is also next to Scuba Du, the dive operator on site. Kayaks, jet skis, and snorkel gear can all be rented beachside. Just off each beach are two buoyed areas for snorkeling. The southern area has a sunken barge to explore while the northern area has some nice coral patches that draw a surprisingly large number of fish. We often do these as a shore dive, but the best time is at night, and it is never disappointing.
Back to this trip…
After some sun, a nap, and a short dip, we meandered back to our room to shower and change for Happy Hour…an event not to be missed. Each evening from 5-7 drinks are two for the price of one. The beachside bar draws divers and other hotel guests out to view the sunset from the best vantage point. This is also a good place to observe divers heading out for an evening shore dive. You can sit at the bar, sip fruitful cocktails, enjoy the ever-amazing sunset, and then watch the dive lights underwater as the divers signal their twilight discoveries to one another. We always manage to make new friends when we travel and this trip was no exception. It seems divers by nature are adventurous and sociable people. We met Andy & Julie who are from Maine, and Larry & Nancy who live in Oregon, on a small six-pack boat the first morning we dove. We dove, ate, and drank with them a lot during the week. We also met Emily who was down from Indianapolis, Joe & Adrienne from New Jersey, and Brian & Deana, who currently live in Mexico City and were here vacationing with their children Pierce and Leah. It was a fun filled 10 days and we made lots of new friends that we have tried to keep in touch with by email since leaving the island.
Each evening after Happy Hour, we headed into San Miguel for dinner. We visited all of our old favorites this trip. Prima, Guido's, Capi Navigente, and La Choza never disappoint! We also discovered some new places thanks to Andy & Julie who were making their thirteenth visit, if we recall correctly.
The Island
The town of San Miguel is only a short five-minute ride away. In some ways it has changed over the years we have been visiting, but in others it is still the same friendly place. A new cruise ship pier was built a few years back and a new shopping mall; Punta Langosta was added to entertain the throngs of disembarking passengers. The locals refer to this area as "Little America". If you want the true flavor of Cozumel you need to venture further into town. San Miguel is built around a central square. Every Sunday there is a grand party held there. All of the residents dress in their best clothes and come to socialize and dance to the live music. Don't worry you won't feel out of place here, in fact you will be encouraged to join in. The area around the square is a lively place, filled with restaurants and shops. A stroll down Avenida Rafael Melgar is a good way to walk off dinner. One side of the street is lined with businesses while the other borders the sea.
If you have a free day, or even an open afternoon a drive around the island should not be missed. We usually head south out of the resort but heading through town is equally entertaining. We stopped for lunch at one of the many restaurants tucked back away from the main roads before heading across the road that bisects the island. The Mayan ruins of San Gervacio are located just off this road. There you can pay for a guide to lead you on a walking tour or you can just go have a look for yourself. Legend has it that this was a place of great importance to the Mayans. Women journeyed here from all over their empire, as this was the home of the goddess of fertility.
Further down, where the road meets the ocean, you'll run into a funky little place called Mezcalitos. Here you can quench your thirst and even grab a bite to eat if you're hungry. You can get an ice-cold cerveza or one of their near famous margaritas! We'll warn you that the latter come served in a small clay pot and definitely pack the punch of their larger brothers. There is no electricity on this side of the island. A hurricane came through some years ago and tore the whole system down. It was never replaced, but that doesn't stop a few hard core businesses along the eastside's beach.
There is a small dirt road that heads off into the wilderness beside Mezcalitos. This road purportedly goes past several small Mayan sites on the way to the lighthouse at Punta Molas. Now we say "purportedly" because we have never made it that far! A word of warning, if you rent a jeep do not assume that the four wheel drive works! We made it seven or eight kilometers down the road before a long sand wash brought our jeep's shortcomings to light. As the jeep slowly sank down to its axles we began wondering what we were going to do. First we attempted to walk through the dense brush toward the beach to see if we could find anyone, then we blew the horn to see if anyone could hear us. At this point it was looking like it was going to be a long walk back through the iguana infested jungle. As if on queue, an old man and what we can only assume was his father came walking up the road with their herd of dogs in tow. Our Spanish is limited and their English was nonexistent but the problem was clearly apparent. Utilizing several boards lying just off the road (obviously this happens quite often) and a large rock we were able to lever the jeep out of the sand wheel by wheel. But guess what? We had to turn the jeep around and come right back through the same area and as anticipated, we got it stuck again. After another round of levering and pushing, we broke free. We insisted the two men take what little cash we had to offer and started making our way back. Unfortunately this story is not quite over. A huge thunderstorm had been blowing inland as we were freeing ourselves from our predicament, so we decided a rapid retreat to the safety of the paved road was in order. On several of the larger bumps the jeep surely became air born. We ricocheted around a blind corner only to come face to face with another jeep. We slammed on our brakes but BAM! The jeeps met bumper to bumper. Luckily there was no serious damage, just a fitting end to an ill-fated expedition.
Another great place to stop is at the far south end of the island – Punta Sur which literally means "south end". There is another little roadside bar with cold refreshments there. They have both tables and hammocks right out on the beach for you to enjoy - a great place to spend a little time. There is also the Punta Sur ecological park to explore. The road to it winds past several small Mayan sites on the way down to the old lighthouse. In the past you could climb its winding stairs to get a spectacular view of the coast but we're not sure if that's still possible. It felt like you were risking life and limb the last time I went up in it and that was years ago.
If you continue on westward and eventually north along the road you'll pass by several public beaches. Some have restaurants and some are just nice stretches of sand. Right before completing the loop back at the Presidente is Chankanaab National Park. There's a lot to do here so make sure you have plenty of time when you come. Besides a nice shore dive this is the home of the island's dolphin experience.
The Diving
The on-site dive and water sports operator is Scuba Du. They have been a fixture at the Presidente for fifteen years. Scuba Du uses both the larger V hulled boats as well as our preferred mode of transport to the dive sites, the faster "six pack" boats. They're called six packs because that is typically the maximum number of divers they hold. All of the boats had oxygen and radios available on them in case of emergency.
We strolled down to their beachside location to fill out the required paperwork and to schedule our dives. It was good to see some old friends from our previous trips. Most of the divemasters and staff remain here year after year, which says good things about the operation. They were quick to fit us with rental equipment until the airline delivered ours.
All of the morning boats were full for the first day of diving so we were scheduled for the afternoon departure. It was nice to sit out on our patio and sip coffee as we watched the boats heading south to the dive sites. It gave us plenty of time to get rested and assemble the camera gear for the next eight days of diving.
Finally the afternoon rolled around and it was time to get wet! We boarded one of Scuba Du's larger boats and headed south to Palancar Gardens. We followed our dive master Jose Luis down through the clear water to the coral formations perched on the edge of the drop off. Ahh, this is what brings us back to Cozumel again and again! We spent the dive cruising through the labyrinth of tunnels, drifting on the current, and just generally enjoying being underwater again.
Cozumel is located along Mexico's Yucatan Peninsula with the 6000' deep Yucatan Channel separating it from the mainland. The Yucatan Current cleanses these waters as it flows between the two creating Cozumel's world-renowned visibility. The shoreline drops off steeply into the trench, forming an underwater cliff thousands of feet deep. Divers soar along it weightlessly, drifting on the current, hence the name "drift diving". This combination of walls and current is what makes Cozumel a unique dive destination.
All the dives in Cozumel run with the current. It propels you along both the walls and the shallow low profile reefs at varying velocities. At times you cruise along at a very lazy place and other dives you fly by hardly able to stop. Of course you can duck in behind a coral head (as you'll see many of the fish doing) to hide from the current or you can simply turn into the on rushing water and kick to hold your position. It's a very relaxing way to dive, you don't have to kick along, and there are no worries of keeping track of the boat either. After your group begins the dive the boat simply follows the trail of bubbles and is there waiting when you surface. One of the nice things about Scuba Du is they don't force everyone to surface just because one buddy team runs low on air. As divers reach 700psi the divemaster signals them to ascend and begin their safety stop. Once their safety stop is completed, divers surface to find the boat waiting to pick them up while the rest of the group gets to continue their dive.
All too soon the divemaster inflated his surface marker and the first dive had come to an end. We surfaced to enjoy fresh fruit on the boat and journeyed to a nearby beach for our required surface interval. Once it was completed we headed to Chankanaab, the second shallower site for our next dive. All the most popular dive sites are part of a marine reserve. This has been instrumental in maintaining the number and diversity of fish species.
One of the more unusual fish we saw was the endemic Splendid Toadfish. They are only found in the waters around Cozumel and are one of those odd looking fish that are hard to spot. You will usually find them hiding under a ledge peering out at you. The universal sign if someone finds one is holding their hand under their chin with your fingers pointed down to simulate their barbles. The toadfish's striking yellow band around the margins of their fins and black and white zebra stripes make them instantly recognizable.
Heading back in we had high hopes that our luggage would be awaiting us in our room with clean clothes to wear to dinner in San Miguel. To our utter disappointment we had to settle for a hot shower and buying shirts from the dive shop. Oh well there's always happy hour . . .
The next morning was clear and calm. We were scheduled on one of the "6 pack" boats headed to another site on Palancar reef. This began a weeklong ritual diving with our new friends, Andy, Julie, Larry and Nancy. It was great to be on one of the smaller boats where you can get to know the others in the group. The combination of excellent diving skills and playful personalities made the week pass far to quickly. Any innocent event whether under or over water was fair game for the groups sarcastic wit. We still laugh recalling Larry's commando back roll with the boat still moving or the unending "Buzz" sightings. As luck would have it Buzz Aldrin was staying and diving at the Presidente and we had a chance to talk to him. As an Apollo 11 astronaut and the second man to walk on the moon it was quite an honor to have the opportunity to shake his hand. After meeting him the tales grew from "shook the hand of" to "we had breakfast together" - meaning he happened to be in the same restaurant at the same time we were.
The rest of the week the diving was as easy as backrolling into the clear waters. We were fortunate to have dolphins escort us out to the dives sites a couple days, but by Saturday the wind had picked up and forced us back onto the larger boats for our final two days. The day we were leaving the wind had increased to the point where the harbor was closed and a small craft warning was in affect - none of the dive boats were going out. Of all the times we have been to Cozumel we have been lucky enough to have never missed a dive day due to the weather.
It's hard to imagine a bad site here but some of our favorites are: Santa Rosa, Columbia, Palancar Caves, and Palancar Horseshoe for wall dives and Paso del Cedro, Yucab and Tormentoes in the shallower areas. Looking back over several trips and more than 130 dives we can honestly say that there isn't a site that we wouldn't dive again. Most are teeming with fish. There are endless varieties of angelfish, parrotfish, grunts and grouper. Make sure you keep an eye out for turtles, sharks or one of our favorites the spotted eagle ray. We can't list all the fish we encountered here but looking through the Cozumel Gallery will give you a good idea of the critters you might run into on a typical dive.
Many thanks to all the divemasters Jose Luis, David, Alphonso, Beto, Lucio, Eduardo, and the rest of Scuba Du's boat staff and crew members who looked out for our safety and helped with all the bulky camera gear. We also appreciate their efforts in helping to spot interesting things to use it on. While we are thanking people we can't forget about Jorge and Vanessa who efficiently handled several special requests for us. When we asked if it was possible to have an over size rinse tank to accommodate our camera gear on the smaller boat they responded immediately. When the boat arrived the following morning, it came equipped with a rinse tank exactly suited to our needs. This is but one glowing example of their attention to their customer's requests. This is what keeps us using their superior operation each time we return.
They say that all good things must come to an end and unfortunately our time here has come to and end too. We strolled over to enjoy the massive buffet breakfast before heading to the dive shop to say goodbye to our amigos at Scuba Du. After packing we had time to sit by the pool and recall the past weeks activities and new found friends. We laughed as we recalled Andy's final "Buzz" sighting – while underwater at 70' he swam up to scribble "Buzz ?" on our slate while pointing at a passing group of divers. Or when we emerged from our night dive to find Larry had already ordered us drinks before happy hour ended. All to soon it was time to head to the airport and our flight home. We ran into Joe and Adrienne and had the chance to tell them goodbye one last time. After a quick pass through the duty free shops we boarded our plane for a painless ride home. Although we frequently visit Cozumel we never tire of it's friendly people and world class diving.