Ambergris Caye, Belize - May 2004
Our journey to Ambergris Caye had been a long time coming. We had talked about going to Belize for ages, but it took lots of research to decide when to go and where to go. For years we had entertained the idea of heading further south to Placentia in search of the ultimate whale shark encounter at Gladden Spit. We just felt that should we fail to actually see one, the whole trip would be a total disappointment. So we settled on Ambergris Caye and decided to travel on the full moon in May just in case a geographically challenged whale shark passed a little off track to the north.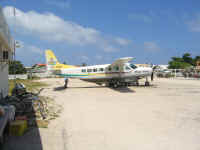 We left on a Saturday morning and flew through Charlotte on US Airways direct to Belize City. After a short wait, we caught our flight to Ambergris on Maya Island Air . . . a charming 12 seat, single engine Cessna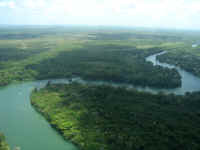 Caravan. (Just the kind I'm never too thrilled to board) Oh, but the low flying plane provided views that were breathtaking. After take off we saw a river snaking through dense jungle, then the classic Caribbean blue water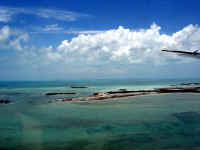 interspersed with small islands stretched out before us, and finally our tiny destination with an even tinier airstrip. Our flight from Roanoke departed at 8:00AM and we were arriving here by mid-afternoon. Belize does not observe daylight savings time and falls in the Central Time Zone. At the airport, our luggage was quickly put into one of the few vans on the island and we were at The Exotic Caye Beach Resort in moments.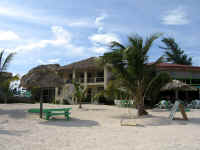 Our home for the next 8 days was a beachfront efficiency right beside the hotel's bar, Crazy Canucks. This bar is a hangout for many of the island locals and expatriates alike. After settling in and donning swimsuits, we headed to town. The heart of Ambergris Caye, San Pedro, was only a 15-minute walk up the beach. It was still quite hot outside, so we searched out an appropriate vantage point to take in a cool drink.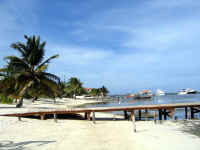 During the trip research, we'd read of the "battle for the best Monkey La La in the Caribbean." The discussion pitted Fido's on Ambergris Caye against Fantasy Island Beach Resort (Roatan, Honduras). Since we planned on visiting both in the same year, we immediately sought to find Fido's and sample contestant number one. When we approached the bar and ordered a Monkey La La, it became clearly apparent that he had no idea what we were talking about . . . so we settled for Margaritas on the beachfront. Oh well, only 4 months until Roatan.
Our room at the Exotic Caye was set up like a small beachfront condo. We had a nice size living/dining room combo, a kitchen, bedroom, and bathroom. We had a microwave, full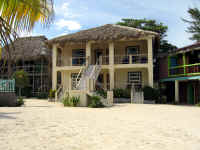 size refrigerator, and stove. Plates, glasses, and silver were provided as well. We took advantage of the facilities to reheat dinner leftovers for lunch, keep cold juices, and basically set up our own bar. Chairs on the front porch made sitting outside and just watching people, boats, and activities at the bar simple. The staff was always very friendly and helpful . . . once even using a wheel barrel to take our initial load of gear up the beach to the dive shop. Each day when we returned, our maid had filled a small tub beside our door to rinse our feet off before entering a clean room. Someone is available almost all the time at the front desk to help you rent a golf cart or bike, plan a mainland excursion, or just buy bottled water for your room.
Our first day of diving was Monday since Sunday had been too windy for boats to go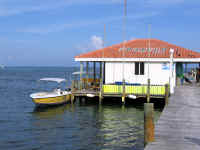 out. Protech Belize would be our dive operator for the week. They are located on a dock just a short distance up the beach directly in front of the Belize Yacht Club. Just far enough to walk on the waters edge and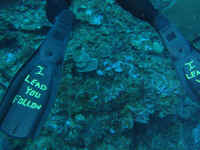 enjoy the incoming waves in the morning. We had an excellent dive master, Brian, who wore whimsical fins which read "I lead, You Follow" on each fin. He would be our divemaster everyday, which made it easy to quickly become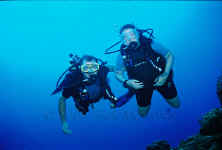 comfortable with each other. We dove with the same operator each day except Thursday when we opted for the all day Turneffe Atoll trip with Amigos del Mar. A couple from California named Ken and Kristin joined us for most of the week as well. It's always nice to meet other couples and talk about your travels. They had opted to spend a few days on the mainland followed by diving here and had many stories to share. We've continued to email back and forth since the trip. It's great to have dive buddies all over!
It seems most of the dive spots had names that deservedly ended with the word Canyon.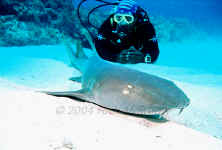 Each site seemed to just roll and roll. As you crossed over each knoll and into the next canyon, you just never knew what large creature you'd find swimming through the channel. We regularly saw free-swimming moray eels, nurse sharks, and turtles. We also saw 4 or 5 spotted eagle rays sort of dancing in a cylinder pattern in one canyon. There were always tons of other fish on each dive. All the coral looked very healthy and the dive sites were relatively close. In fact, we came back to ProTech's pier between the two dives each day. I won't bore you all with a complete fish list, just take a look at the Belize Gallery to see the marine life and creatures we encountered. We did find a new creature that had to be looked up while logging our dives . . the Batwing Coral Crab. Unfortunately, his pose was just not impressive enough to make the gallery, but we always enjoy pouring through our fish/creature identification books until we find what we saw!! During one dive we heard the unmistakable clicks and whistles of dolphins but it was so hard to determine their direction underwater. Rick and Brian saw 5 in the distance, but I unfortunately did not.
Just south of most of the diving is Hol Chan Marine Reserve. This is a spot we visited twice during our week here. We dove it first as a night dive. The site is a 20 to 30 feet deep and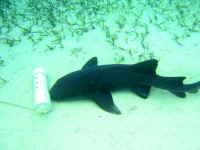 lies in a near U pattern with the deepest portion lying near the bend in the middle. Current was definitely strong near the only break in the U where the water feeds into the channel. We felt the need to cross this section quite quickly to avoid being swept outside the reef. Any attempt to retrieve a diver swept out would be difficult since a recent boat grounding on Ambergris Caye had destroyed the only remaining channel marker noting safe passage outside the reef. There were lots of cool creatures for pictures here, but none more striking than the overwhelming abundance of Southern Stingrays. We must have seen nearly 30. They were literally everywhere. Some were half buried and stalking their next meal, but all were strangely still. Not a single one was cruising around. We returned to snorkel Hol Chan after our last day diving with ProTech. They fill a piece of PVC pipe with chum to draw nurse sharks and stingrays in for all to see. We took both cameras but remaining submerged long enough to take good pictures was a challenge. It served as a reminder of how wonderful having an air supply is while trying to compose a picture. We got precious few clear shots, because the feeding activity and the number of people snorkeling really stirred up the water. During our outing, a single spotted eagle ray made one elegant pass, but refused us any evidence of his visit. We still aren't sure if having scuba gear or the fact it was dark made the first dive here a little better.
The one-day outing to Turneffe Atoll was really impressive. You know you're going to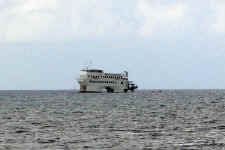 have a great day diving when you pass a well know live aboard vessel anchored a mile from your first dive location. We passed one of the Nektons (never could decide which it was) just before diving "The Elbow." This site was fabulous. The barrel sponges on the wall were literally 5 to 6 feet in diameter and equally as tall. The colors of the coral and sponge growth seemed more vibrant here and the wide variety and overwhelming abundance of marine life was spectacular. As the dive neared the end, our dive master turned away from the wall and out into the blue. Obviously he knew this is where the two currents actually converge. We saw five different schools numbering in the hundreds. Sometimes there were two schools at a time. The effect was extremely disorienting and required a close eye on our depth gauges to keep us in check.
The other two dives were equally as striking. There were many more of the enormous barrel sponges and tons of fish here too. We had lunch on Calabash Island where the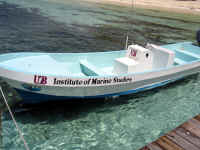 University of Belize has a research facility. Amigos del Mar provided the meal here in grand style. Our feast was made by a local woman from Ambergris Caye and warmed in the facility's kitchen while we made our second dive. It included chicken, rice, potato salad, fruit and even fresh coconut cream pie for dessert. After lunch we made the third dive and then started the long boat ride back. During the return trip, the crew brought out cold Snickers bars and beer for all on board. Once inside the reef but still about 45 minutes out, they served the local favorite cocktail, the "Panty Ripper." Made from coconut rum and pineapple juice, these potent libations became a new favorite for us. The all day excursion started with a pick up on our hotel dock at 6:00AM and didn't return until almost 5:00PM, but we'd highly recommend the trip. We had the option to do Turneffe or the Blue Hole, and after hearing from those who had done both, we opted for the Atoll. If you're visiting and feel compelled to go to the Blue Hole, note that most said "it's a deep dive with some cool formations and occasionally you may see sharks circling in the bottom." Although we have no basis for comparison, I think we made the right decision.
Back on the island, we always enjoyed the short walk in either direction to find dinner. One of our favorites was the Jambel Jerk Pit. Rick really likes spicy food and this place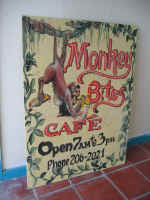 had great jerk chicken. Most of the restaurants were small and seemed to have only 5 to 10 tables. They had sand floors and served mostly local cuisine. All were reasonably priced and served lots of seafood, rice, and black beans or other local vegetables that we really enjoyed. We sampled El Divino, Caliente, El Patio, Elvi's Kitchen, The Belize Yacht Club and Monkey Bites Cafe. We also managed to have a delicious pizza actually delivered to our room from a roadside stand near our hotel after a night
dive. Another evening we spotted Bobby Knight at a little restaurant called Rasta Pasta. For those of you who don't know him, Coach Knight is the current head coach of the Texas Tech basketball program. He was both coach (@ West Point) and mentor to Mike Krzyzewski, Duke University's head basketball coach. As an avid Blue Devil's fan, I had to ask if Rick could take my picture with him. He was extremely accommodating and even talked a little about his recruiting class coming up. We chatted, snapped the picture, and walked back down the beach with me beaming!
Our only excursion beyond walking distance was an afternoon golf cart rental to see the northern end of the island. We drove through the busy streets of San Pedro and came upon the small waterway known as Boca del Rio, that separates north from south. The only way across is on a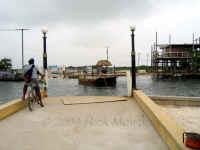 hand pulled ferry . . . really! Although I understand they have decided to replace it with a bridge. Several larger resorts including Captain Morgan's, where TV's "Temptation Island" was filmed, are out this long bumpy cart path. Soon after the crossing we started to encounter heavy rain. During one shower we parked under a nearby banana tree, it's huge leaves acting as our umbrella. Once the rain let up we were off again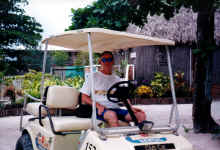 until the next downpour. It was raining so hard at one point we actually stopped at one of the resorts for a beer and asked for trash bags to wear as rain coats to continue. The scenery was beautiful, but would have been so much nicer if we'd been able to stop and take more pictures on a sunny day. We stopped for a late lunch at The Laguna Grill at the Belizean Shores Resort near the road's end. After climbing several flights of stairs, we were treated to a fabulous, although rainy view both inland and out to sea. The rain abated to a sprinkle and we began the ride back to town. All week we'd had wondered why the golf carts had knobby monster truck tires, but now we knew.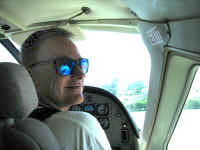 This is definitely a place we would return to visit and dive. The quaint little bed and breakfast style hotels line the beach and the short walk by moonlight is quite romantic. The diving and dining were excellent and the people on the island were extremely friendly. I think every place we ate or shopped took a credit card and almost all the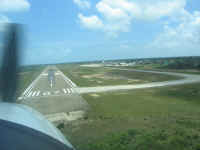 locals spoke English. When our week came to a close and we returned to the airport, we again boarded a tiny plane. But this time the copilot's seat was empty and Rick quickly hopped to the front. His vantage point made for some great photo opportunities. As we descended back into Belize City, we saw an enormous shrimp farm and we got a different look at a thunderstorm. It appeared as a curtain of water closing over the lush tropical forest. All in all, Ambergris Caye is a great vacation destination.