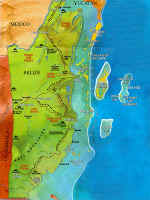 Belize Map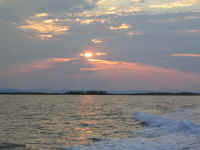 Sunset on the way to Glover's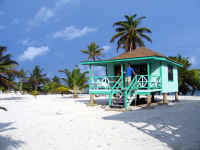 Our Cabana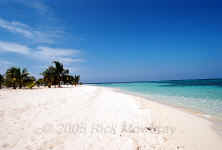 Turtle Beach - Southwest Caye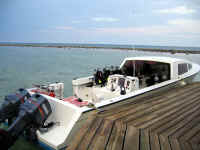 Manta Resorts "Dolphin"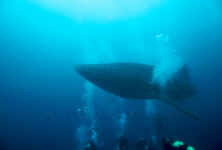 A Whale Shark's Grand Entrance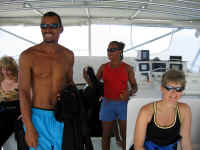 Dive Guides Glenn and Nadia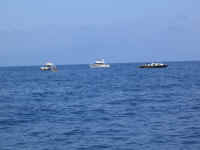 Fishing Boats at Gladden Spit
Underwater Breeze
Jacks in Formation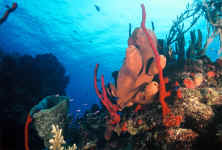 Underwater Landscape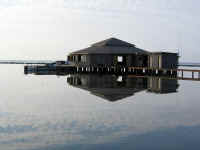 The Cantina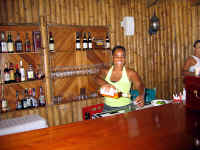 Pat at the bar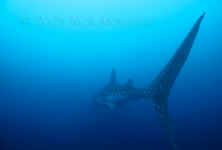 A Whale Shark Departs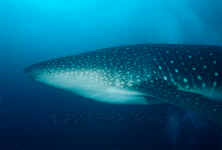 Hello Mr. Big!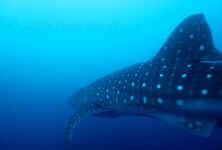 Passing Giant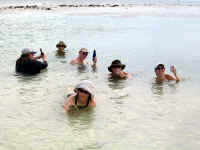 Sand bar party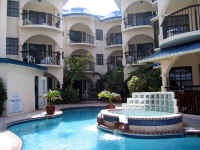 Aqua Marina Suites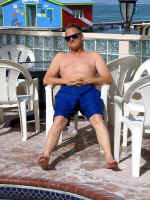 Rick at the pool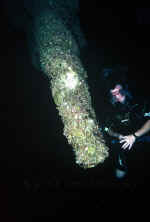 Blue Hole Stalactite
Twin Yellow Tubesponge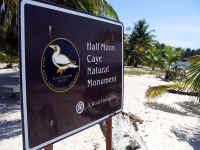 Half Moon Caye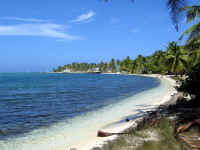 Half Moon Caye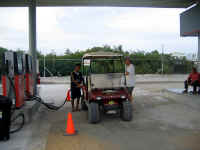 Our "Monster"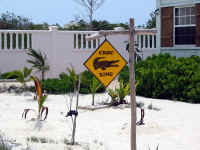 Along the road north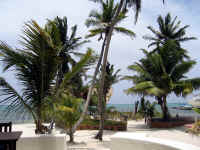 Journey's End for lunch
The lure of whale sharks proved far too strong and we found ourselves bound for Belize during the full moon in May once again. We really enjoyed diving at Turneffe, one of the outer atolls last year, so we decided to base our land destination at Glover's Reef Atoll, a UN World Heritage site and a Belizean National Park. We chose Manta Resort because three weeks each year, they have "Whale Shark Week." The week of the full moon in April, May, and June they change their regular dive schedule and run alternating boat trips to Gladden Spit…the dive site with the best possible opportunity to spot these elusive creatures.
We departed Roanoke early Saturday morning on US Airways with our usual stopover in Charlotte in route to Belize City. After arriving, gathering our bags, and clearing customs, we were greeted by Mr. Marino. He is the representative from Caye Resorts responsible for picking up guests of both Blackbird Caye and Manta Resort. We boarded a shuttle bus and made the short trip to the cruise ship dock in Belize City where we would rendezvous with Manta Resort's Pelagic. From the drop off point, we walked over to the Smoky Mermaid and had lunch with our new friends, Duane and Melinda. Prior to the trip, we had exchanged emails several times in search of more information about the resort. It was nice to finally put both names and faces together. After lunch, we still had some time to kill while waiting for all the week's guest to be gathered from later arriving flights at the airport, so we all walked around the small downtown area to look around. It was quite desolate with no cruise ship in port.
Once all the guests, luggage, and supplies had been loaded on board, we departed on the three-hour trip to Southwest Caye and our home for the next week, Manta Resort. We journeyed down the coast staying inside the reef before heading out to the open ocean.
The long ride gave us ample opportunity to meet our fellow divers for the week. We enjoyed a beautiful sunset and journeyed on to the resort arriving just slightly after dark. After a cocktail, a brief welcome/orientation, and dinner, we headed to our cabana to assemble the camera and get some much-needed rest.
Our cabana had two double beds, a nightstand, a dresser, and a bench under a long continuous rod for hanging clothes. The storage space and the room to maneuver our gear were rather nice. The front porch came complete with a hammock, lounge chair, and a clothesline. A tropical breeze outside aided in drying clothing and as luck would have it, we never saw rain the entire week. We stayed in one of the 7 standard cabanas, but the resort also offers 5 new deluxe cabanas and a two bedroom family house. These trendy structures are octagon shaped and feature tile floors and small refrigerators. All the cabanas are air-conditioned.
The next morning, we awoke to find ourselves literally in the middle of a small, elongated 12-acre island in the Caribbean. Out our front door and our back window, we could see crystal clear water only steps away. As we started our short walk to breakfast, we noticed the flat calm condition that surrounded the Cantina we would eat our meals in for the next week. In hindsight, it was an omen of the good weather we would enjoy the entire week.
After breakfast, we completed all the necessary paperwork and were briefed on the "Whale Shark Week" schedule. With the resort at maximum capacity, 24 guests, we would divide into 2 groups of 12 divers. On the first day, each group would dive sites close to the resort to allow the divers to make sure all their equipment arrived in good working order and allow the staff to evaluate the divers. Typically the boats returned to the dock between each dive. As the week went on, the sites were further out and surface intervals were observed on board.
The Whale Sharks
On the full moon in May, these gentle giants return to Gladden Spit each year to coincide with the spawning of Cubera Snapper. This phenomenon creates a great abundance of food for these filter feeders. The Belizean government has declared this area to be a Marine Conservation Zone and closely regulates the number of boats and divers that are allowed to visit the area daily. This is to ensure that their behavioral patterns are not disrupted. Although the exact method was never made completely apparent, there are obviously a set number of "slots," timed opportunities, each day and only a certain number of approved dive operators allowed in the zone during each slot. Each boat is allowed only 12 divers and must be led by a trained whale shark guide. Upon arrival in the zone, boats check in with the marine patrol and turn in their prepaid entry tickets before continuing. The fee is $15 per diver, per slot, per day.
We actually made the trip to Gladden Spit on two different days and dove two time slots the first trip and one on the second trip. On each dive, all divers enter the water one after another and descend together with the guide in search of schooling snapper. The idea is to find the schools, form a tight group above them, and wait. The thought process is that by staying together, the group's escaping bubbles look much like the actual spawning activity when it occurs. This ritual seems to lure passing whale sharks closer to search for an easy meal.
On Tuesday, the day of the full moon, we made our first visit to "The Zone." We dove once in the morning near Manta, had lunch in the Cantina, and then made the forty-five minute trip. Our excitement on the boat reached fever pitch when we arrived and found about a dozen fishing boats all sitting near one another. We logically concluded they were sitting right on top of the schools of fish and that we were all about to be visited by the largest fish in the sea. After checking in with the rangers, we could hardly wait to jump in. But after being around the same group of divers morning, noon, and night for a couple of days, we had already decided a few good luck rituals would have to be performed. Our friends, Jen and Scott from New Orleans had been kind enough to bring enough Mardi Gras beads for the entire boat and distributed them one evening while we were socializing before dinner. I had taken my beads to wear under my wetsuit for luck and we had everyone wear them and swing them wildly around their neck like a hoola hoop before we made the dive. Our evening social hours had all been very colorful to this date. We had all seen Jen and Scott and their ever evolving "butt dance" and made it clear they'd have to perform that before the dive as well. Of course, this is all going on while we are getting ready, so it was really extremely funny.
Our dive masters and whale shark guides, Nadia and Glenn, kept us all together and descended to around 60 feet. This was to be the max depth for the dive. They explained that diving deeper would only drive the fish deeper. So we all peered straight down in search of schooling Cubera Snapper to hover above. We swam first one direction then another in murky 40-foot visibility. At one point we did see a snapper rising toward the surface and we thought we were about to see the actual phenomenon before our eyes. We had seen National Geographic film footage of a female breaking from the school, shooting to the surface, turning white all over, and expelling hundreds of eggs. She was immediately followed by dozens of males that begin to rub against her as they pass by and then eject clouds of sperm all around the eggs. Much to our dismay, upon closer inspection, the snapper was hooked and being pulled to the surface. After a disappointing first dive we headed topside for a short surface interval. Unfortunately the second dive brought no better luck and we were soon headed back to the resort. Our group was quite resilient. No pouting or disgust, just hope for our return on Thursday.
Glover's Reef Diving and the Resort
The diving around the resort was exceptional. Most of the sites are in very good health. Wall Street, Cuda Cove, and Fin Fan Alley are all great sites, but Hole in the Wall, The Crack, Aquarium, and Manta Tunnels were probably our favorites. We really had a first-rate group of divers on our boat. All of them seemed to observe the same slow methodical pace that allows for maximum exploration. No mad tank banging, air sucking, or flailing about, just lots of keen eyes pointing out large and small discoveries. We always log our dives and look up anything we don't recognize and we finally met another couple that does exactly the same thing. (They even made their own logbook pages and bound them in a book with a laminated cover made from pictures from their collection). Duane and Melinda are as interested in documenting what they see as we are and we soon had Jen and Scott combing through fish and creature ID books between dives as well. I have been officially dubbed "Secretary Blenny" for carrying a slate and calling out our fish list for logging.
Being so far removed from the mainland provided some really pristine sites. The fish variety was good here too. We saw all manner of parrots, wrasse, and angelfish. We even made a couple of new discoveries. This trip we had to look up Arrow Blenny (known for it's "candy cane" bent tail) and a swimming crinoid that was wrapped tightly around a sea plume and hard to see at just a glance. Both of them were too small for a wide angel lens, but the large animals were lurking here as well. Spotted eagle rays, turtles (even one loggerhead), nurse sharks, one solitary reef shark, and dolphins appeared throughout the week. The walls were full of large barrel and brightly colored tube sponges. Some of the barrels were literally large enough for a diver to get inside. We often saw schools of creole wrasse, bar jacks, and horse eye jacks who never seemed to mind posing for candids. However, the queen triggerfish were not so kind. There seemed to be a least one on every dive that mocked us from just far enough away to be out of picture range.
The cantina served as the focal point of the resort. We all gathered there between dives, at meal times, and for socializing. The large open-air room contained tables for dining, a bar, and two sitting areas. One served as purely an area to socialize and the other had a large TV, DVD player, and a sofa. On several evenings, various guests shared their digital photos and videos. Our favorite part was the wide deck that surrounded the building. Each evening we sat outside and laughed with our newfound friends. The full moon and never ending stars provided the perfect backdrop.
The bar was a refreshing change of pace. The bartender, Pat would mix anything you wanted….when she was there. But in her absence, guests would just head behind the bar, concoct their own drinks, and mark them on a clipboard at the end of the bar. Beers, soft drinks, and everything else were kept on these sheets and guests were on the honor system.
Breakfast and lunch were always served on a small buffet and snacks could always be found lingering between dives. Each day at lunch, we chose between two entrees for dinner (or had "the combo"… a little of both). Appetizers were offered each evening before dinner. The cooks here did a fabulous job. We never heard a single guest complain.
Back to the whale sharks…
On Thursday, it was our turn to make the trip to Gladden Spit again. This was our third and last opportunity for seeing the whale sharks. The ride out this time was much more subdued than before. The knowledge that we had come this far…to the right country, at the right time, at the right spot and it all comes down to one last dive. We spotted the fishing boats, checked in with the rangers, and suited up for this single dive. There would be only one "slot" today. Everyone checked their gear and slid into the water.
More than half the dive passed and we had seen nothing more than on our first two attempts. We ran into another group of divers and we closed ranks, attempting to look as much like spawning snapper as possible. And then it happened. We heard tank banging and saw pointing in the other group. Suddenly, out of the murk, it appeared! He was swimming straight towards our group. Unimaginably close, he passed us within touching distance. Of our group, luckily Rick was probably the closest diver and got four really nice shots that we used for this website. I was fumbling aimlessly with the digital camera and took a short movie that was terrible. It was so hard to concentrate on anything other than just staring in awe. Rick later aptly described it as "seeing something as big as school bus pass by you underwater." The show was not quite over. Moments later, a second set of white dots appeared beneath us. We shot more photos, but this one was really out of range. After things calmed down, the entire group broke out into wild gyrations and variations of the "whale shark butt dance." As we grinned uncontrollably, a small pod of dolphins swam overhead in final tribute to our spectacular encounter.
We made two last dives on Friday morning and then the dive staff took all of our gear to be rinsed and set out to dry on the deck surrounding the cantina. We had lunch, logged our dives, and then headed out to the sand bar for an extended surface interval. The coral patches just beyond the sand provided some nice snorkeling early in the week, but on this day, we borrowed a cooler from the kitchen, threw in some drinks and headed for the beach to lounge about. As we recalled the week's activities, we laughed and soaked up the remainder of the day's tropical rays. Each day seemed to have cause for merriment…we'd had Kyle's birthday, Laurence & Beth's engagement, Gaddy & Renée's recent marriage, and James & Erica's 10 year wedding anniversary to celebrate. Not to mention the unending progressions of the "Butt Dance" and the truly incredible experience of seeing a whale shark pass at close range. Midday soon evolved into late afternoon and we were joined by more of our vacation companions. We sat in the shallow water and passed around our digital camera for everyone to take their own self-portraits. Laughter echoed across the island as we viewed the results. All too soon it was time to haul out our waterlogged bodies and head back to our cabanas or "hooches," as our Louisiana contingent had dubbed them early in the week.
After some serious crash packing, camera disassembly, and quick showers we headed to dinner. One last evening to have some drinks, exchange addresses, and enjoy each other in this wonderful room out over the water. Following our meal there was a brief review of the plans for the next morning's scheduled departure from the staff. We settled up our clipboard tally (bar tab) and headed to our cabana to finish packing and get some rest. Morning and the 3-hour boat ride back to Belize City would come all too soon…
Back to Ambergris Caye
The week had passed far to quickly, but we weren't ready to go home just yet! We had decided to stay for a few more days before heading home. So instead of heading to the international departures section of the airport we headed over to Maya Island Air's counter for the short flight over to Ambergris Caye. The small Cessna was fairly full but we managed to squeeze on with all of our bags for the 15-minute ride. The low level flight offered great views of the small offshore islands as we winged our way to San Pedro's small airport.
We were met by a representative of the Aqua Marina Suites and quickly claimed our bags and loaded them onto the extra long golf cart for the quick ride. The hotel is located in the downtown portion of San Pedro. It's street side exterior is pretty plain, but once you pass through the front desk area it opens up to a nice ocean front courtyard with a pool and bar. After spending a few minutes getting checked in, that's exactly where we headed! We relaxed by the pool for a while before deciding to stroll down to Aqua Dives beachfront shop to check in for our diving. We had scheduled a 3-tank trip to Belize's famous Blue Hole and Lighthouse Atoll for the next day and a 2-tank trip to the local reefs for our last day of diving. We spent a couple minutes filling out paperwork and getting the details for our trip the next day before continuing our meandering walk along the beach. Soon it was time for dinner and we decided on "El Patio" one of our favorites from the last visit. It's a small place with sand floors just a couple of blocks from our hotel. Traveling had taken its toll and we were ready to eat early and call it a night.
Six O'clock came awfully early as we headed out onto the dock for our pickup. We were greeted by spectacular weather and got to watch some large southern stingrays gliding back and forth through the turtle grass looking for breakfast. A small boat came by to gather us and other divers up and transported us to Aqua Dives shop where we were transferred to their biggest boat. We set up our gear and looked for a comfortable spot for the long ride out. We knew from our trip here last year that the ride outside the reef would be a bumpy affair, but when another passenger suggested we grab a couple lifejackets to pad our posteriors we knew we would be in for a rough ride! Soon after leaving the dock we turned east and headed out past the barrier reef and started the two and a half hour bone-jarring ride to the Blue Hole.
The Blue Hole was formed millions of years ago when the ocean's water levels rose at the end of the Ice Age and the roof of a great cavern collapsed. It left an almost perfectly circular hole more than a 1000 feet across and over 400 feet deep. It appears a dark blue obelisk in a sea of azure, ringed by coral outcroppings and two small areas where a boat may enter.
Our group's plan was to dive the northern rim where we would descend to an overhang lined with stalactites. The water was somewhat murky from the sand that constantly slides over the edge and we were escorted by a variety of jacks, grouper and reef sharks as we began our way down. In our minds we had expected to see an overhang 10 to 15 feet deep and stalactites maybe the size of your leg – boy were we wrong! The stalactites were easily 30 feet long and the overhang so big that we were able to swim back and forth between the ancient columns. It was quite an eerie sight looking out between the pillars at the circling sharks. At that depth the dive was soon over and we headed up for a safety stop as we watched the fish whirl around us. The dive was actually much cooler than we had imagined.
We boarded the boat and headed to our next stop – Half Moon Wall. Afterward, we proceeded to Half Moon Caye for lunch and a visit to the and the red-footed booby sanctuary. The $40 per person entry fee seemed a bit steep, but we enjoyed Belizean chicken and wandered around the island. They have an observation deck setup in the interior of the small island where you can climb up to tree top level and get a fairly close look at these rare birds and their bright red feet.
After lunch we headed a short distance away to dive Eagle Ray Wall. While we didn't see any eagle rays we did see lots of tropicals such as blue parrotfish, butterflyfish, green morays and some huge tarpon. Both of these last two sites were great dives, but now it was time to turn the boat west and make the run back to Ambergris Caye. Thankfully, the ride back running with the waves was much easier and soon we were cruising past Caye Caulker back inside the reef. The crew dropped us at our dock and we lumbered inside for showers. We headed to Elvi's Kitchen only to find it closed on Sunday evening. Too tired to think, we opted to call in pizza delivery, log dives, and crash after a very long day.
On Monday, the weather was sunny but very windy. Our scheduled dives were postponed until the afternoon and we lounged around our room, enjoyed a bite of breakfast, and then took a long walk down the beach. We stopped by Aqua Dives to inquire about the afternoon dives, and then continued down just past Exotic Caye, where we had stayed last May. We were disappointed to find one of our favorite restaurants, Rasta Pasta, had been closed and reopened under a new name with a new menu. We strolled back to our hotel, played in the pool, and relaxed in the sun. Soon it was time to make our way to the dock for pick up again. We dove Esmerelda Canyons and Tackle Box Canyons, but neither had the visibility we enjoyed here last year… the weather had really stirred things up. There were lots of fish here, but close passes by both a good sized nurse shark and a huge green sea turtle were the highlights. Later, we returned to Elvi's and found her open for dinner.
We had scheduled our last day without diving to go exploring around the island. We had attempted this last year only to get washed out in a torrential downpour. As we headed north on our "monster" golf cart the weather gods appeared to be more cooperative. We wound our way through town and crossed the hand pulled ferry to see how far we could go. We bounced our way along until we came to the end of what is loosely described as a road; from there we drove out along the beach looking at all the new construction going on. We stopped to look at some of the area's hotels before deciding to eat lunch at Journey's End.
Their open-air restaurant is situated right along the beach giving magnificent views to go along with your meal. Afterwards we continued following the coast north, enjoying the scenery and exploring the island. The road reappeared and turned inland, but by this time we were to spoiled by the sea breeze and the panoramic views of the coast so we decided to turn around and head back toward town. We retraced our steps back through town and took a ride down to the southern end of the island too. We didn't want to miss anything.
Feeling somewhat exhausted from our vacation, we strolled down the beach for dinner and a few drinks at Fido's. It was nice reflecting on our trip while sitting outside, listening to the waves and seeing the stars. All to soon tomorrow would come and it would be time for the long journey home. When we were in Belize last year we really didn't think we'd be back this quick, but we can honestly say it was even better the second time around!